Eggplant Zucchini & Potato
2019-10-28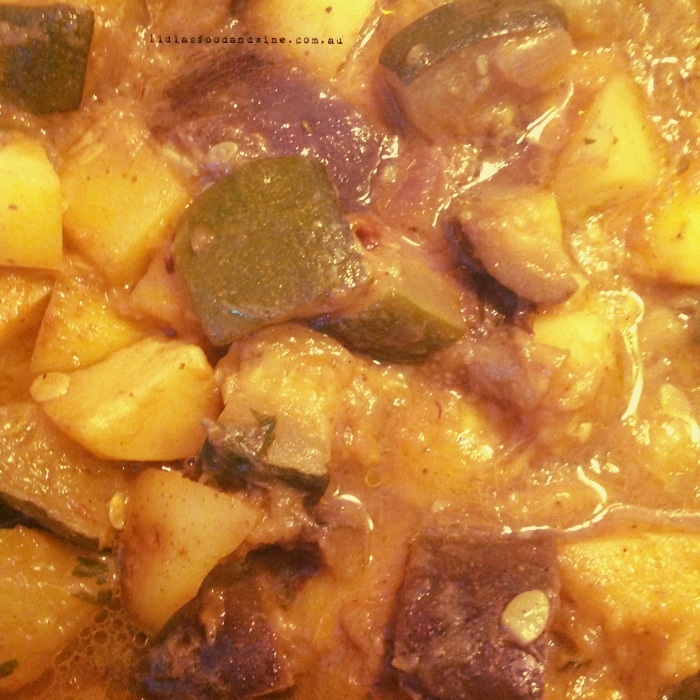 Yield:

1-2

Servings:

3

Prep Time:

15m

Cook Time:

30m

Ready In:

45m
Average Member Rating
(0 / 5)
0 People rated this recipe
I love the flavours of eggplant, zucchini & potato and this recipe highlights the textures and the tastes of these unique veggies. Try my recipe for yourself, packed with spice and flavour for you too.  It's an Indian and Aussie spice inspired dish and so delicious, great with a side of grains, rice, or as a side with any braised meat or white fillet of fish, hey presto dinner's ready!
This is my version of rustic home cooked light and easy whole food
Ingredients
1 huge zucchini (4 -6 smaller sized)
1 huge eggplant (2-4 smaller sized)
5-6 potatoes
1 Spanish onion
3 cloves of garlic
1/4 cup olive oil (EVOO)
4 cloves
4 peppercorns whole black
4 tsp cumin spice ground
2 tsp turmeric powder
2 tsp medium curry powder
2 tsp ginger powder
2 tsp coriander seed ground
1 tsp lemon myrtle leaf ground
1 tsp fennel seeds
Sea salt to taste 1 tsp
1 cup filtered water
Method
Step 1
Just when you think, it's all Indian, an Aussie spice Lemon myrtle gets to play an important role in creating this unique dish.
Step 2
Chop all the ingredients into chunks evenly, finely dice the onion, and mince or finely chop the garlic, easy and ready for this dish.
Step 3
Heat oil in a deep walled fry pan, when hot add the cloves, peppercorns, then the remaining spices to combine. Next the onions and garlic till all spices coat and well combined, add the zucchini first allowing all the spices to fully combine, next the same with the eggplant, stir and toss well together, finally the potatoes spread evenly through and add the filtered water, the veggies will be just almost half way to 3/4 submerged, bring to the boil on high heat, once bubbles begin to appear, drop the temp down to low, put the lid on the pan and allow to simmer for a further 30 mins.
Step 4
The zucchini will start to break down and become part of the self saucing process, just keep a check on the potatoes as they should not get mushy, but remain in tact and be perfectly cooked through. Once they are cooked through, remove the lid from the pan and allow the liquid to reduce and intensify in flavour, check the sauce from time to time and when it's got that flavour that's yummy and creamy in texture is when you can turn the heat off, pop back on the lid and allow to sit for a while in the pan. This is where the flavour just becomes a melt in the mouth sensation ready to prepare a plate and enjoy!
Step 5
This can be served with brown organic rice or crusty bread for any vegetarian, or aside dish with a fillet of white fleshy fish or braised meat. It not only tastes amazing, it's aroma is beautiful throughout the kitchen.